Theme: "Bunnies for Friends"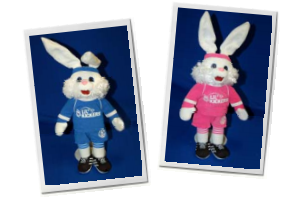 We will be celebrating our Lil' Kicker's 'BRING A FRIEND WEEK' during the week of May 15, 18 and 19th.
This means we encourage you to invite all of your kid's friends to come down and participate into our Lil' Kickers Classes. We are offering a few perks to everyone who comes in:
Bring a friend to any of our Lil' Kicker Classes and if your friend signs up for at least a 6 week session you and your friend will receive a bunny! (if your friend joins for a 12 week session they will receive a FREE uniform AND a FREE bunny)! Choice of blue or pink bunny. NOTE: limited supply of pink bunnies. Bring as many friends as you like, but only one bunny per customer please.
FREE Coffee to all our parents!
Raffles for Lil' Kicker Prizes!
Thanks to everyone and we hope to meet as many families as possible in the coming months. If you have any questions about anything going on in the coming weeks, please give us a call or shoot us an email at any time!
Share our FACEBOOK Page or Blog with friends to help spread the word!